View this newsletter in your browser
Newsletter
Q3 – 2018
Dear all,
Welcome to your dedicated newsletter!
For the last 18 years, REFLEX CES has been an FPGA board design house. For the last 5 years, we have become an essential supplier in the high-end development for Arria® 10 and Stratix® 10 FPGAs. The expertise of our engineers allows us to provide the fastest and most powerful boards. And we would love to share these quarterly highlights with you.
Highlight of the quarter
The Sargon Instant-Development Kit Stratix® 10 FPGA FMC+
The Development Kit contains everything required to start your design!
Developer Zone
REFLEX CES is pairing up our Stratix® 10 boards with intellectual property (IP) to provide complete end-to-end solutions :
•REFLEX CES offers Enyx'snxTCP and nxUDP IPcores on our Intel® Stratix® 10-based board XpressGXS10-FH200G PCIe Board to address the growing needs in finance and data center.
•REFLEX CES and Orthogone Technologies collaborate to offer an ultra-low latency networking solution for high frequency trading (HFT).
•REFLEX CES is collaborating with training partners ALSE for FPGA firmware design and HandsOnTraining, for expertise in OpenCL development.
•New partnership with Design Gateway to implement application layer to access NVMe PCIe SSD without CPU usage, using the power of the FPGA to address the maximum number of high-speed links and offer a real time storage solution.
Zoom on…
REFLEX CES showing their latest FPGAs boards and systems at Las Vegas Consumer Electronic Show (CES) 2018
REFLEX CES showing their latest Intel® Arria® 10 SoM and Stratix® 10 boards at Embedded World 2018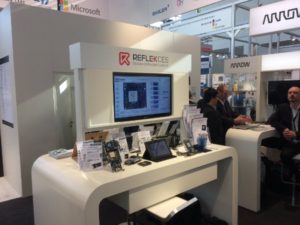 Between training session and showcase, REFLEX CES' booth at the ACT EMEA event in Prague, April 2018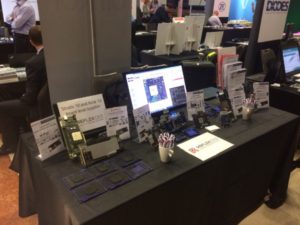 Test design with FireFly™ FMC module from SAMTEC, MTP/MPO optical front end. Next step with FMC+ module to address server solutions for high bandwidth connection.