View this newsletter in your browser
Newsletter
Q2 – 2021
Dear Customer,
This edition of the quarterly newsletter will highlight our two Intel® FPGA-based System-on-Modules.
At REFLEX CES, we took our wide FPGA experience, combined it with our embedded knowledge, and created perfectly suitable Modules for a wide range of applications. Those SoMs can be used in many embedded applications, especially data analysis.
Happy reading!
Our Intel® FPGA-based modules
Achilles Arria® 10 SoC System-on-Module
With its numerous IOs (226 total), the Achilles module can interface an analog front-end with FPGA logic for high performance data acquisition.
Launched in 2016, this popular module combines the flexibility and ease of programming of a CPU with the configurability and parallel processing power of an Arria® 10 FPGA. With more than 1500 units sold to 50 different customers, Achilles has already proven its high value in the industrial world.
Main features are PCIe Gen3 x8, 226 SE IOs total, 24 transceivers @7Gbps and 2x DDR4 banks up to 2400MT/s.Sold as a Development Kit with the Starter Carrier board, or with a PCIe carrier board sold separately, Achilles will address all your challenges and application requirements. The Module is also available for purchase separately for production systems.Discover the board on video here!
COMXpress Stratix® 10 SoC System-on-Module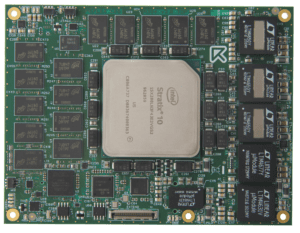 Thanks to an integrated quad-core 64-bit ARM processor on the Stratix® 10 SX FPGA and 56 Gbytes of DDR4, the COMXpress module is optimized for data processing and medical imaging.
This module is the industry's first Stratix® 10 SoC SoM. It is aligned to the COM Express standard, using a Basic form factor with a type 7 interface.
It includes the largest 2800 KLE Stratix 10 density for processing huge data algorithms with a maximum number of four DDR4 parallel banks with total density of 56GBytes. The Type 7 interface provides an extremely high PCIe bandwidth through its 32 lanes of PCIe Gen3.
The COMXpress Stratix 10 module can be plugged on an evaluation carrier board, the REFLEX CES COMXpress PCIe carrier board, to test the board before customer develop their own.
Discover the board on video here!