Achilles SoM
Presentation of the Arria ® 10 SoC som
The Arria® 10 SoC SOM is based on the Intel® Arria® 10 SoC FPGA, and is available in three different versions according to the FPGA, memory, and connectors needed (see the "Tech Spec" tab).
Featuring an ARM dual-core Cortex-A9 MPCore and up to 660 KLEs of advanced low-power FPGA logic elements, the Arria® 10 SoC combines the flexibility and ease of programming of a CPU with the configurability and parallel processing power of an FPGA.
Its small size and its strong FPGA makes it perfectly suited to embedded and industrial markets.
Thanks to a system-on-chip (SoC) (an integrated circuit inside the FPGA, most often a CPU (central processing unit) processor), the FPGA can better control the board.
The target markets include automotives, video broadcasting, machine and intelligent vision, industry, military, testing and measurements, and medical.
The Arria® 10 SoC SOM is shipped alone.
This System On Module is also available in a Development Kit : The Achilles DevKit. This Arria ® 10 SoC development kit will provide you with schematics, reference designs and a starter board.
We also offer a PCIe Carrier Board as an optional extra product compatible with all reflex ces Arria® 10 SoC SOMs, or we can design a custom carrier board.
Benefits & features
Intel® Arria® 10 SX 270 or 660 KLE
PCIe GEN3 x8
Dual ARM® Cortex™ A9
228 SE IOs total (113 LVDS)
24 transceivers up to @12Gbps
2x DDR4 banks, 8GByte total
Commercial & Industrial Temp
Target markets : Bioscience, High Precision Measurement, Machine Automation, Radar Systems, Customizable
The Intel® Arria® 10 SoC family integrates a Dual-Core ARM Cortex-A9 MPCore, hardened floating-point variable-precision digital signal processing (DSP) blocks, along with high-speed transceivers and on-chip memory.
REFLEX CES's Arria® 10 SoC SOM offers a range of interfaces according to your needs
Our Arria® 10 SoC SOM offers primary interfaces, such as several banks of DDR4 memory, I2C and USB links, FMC connectors (with many available LVDS/single ended I/Os), JTAG connectivity, CPU, peripherals, switches, ethernet interfaces. We also deliver all the relevant design rules for our boards, to develop the customer application carrier board (we can also develop it based on customer specifications). We provide online technical support and schematics, and several certifications may be available on request.
The Arria 10 SoC FPGA is a semiconductor that saves board space with integration, with twice the density of the previous generation. This leads to lower energy requirements and therefore lower power consumption. Our system-on-module is designed for productivity and is perfectly suited to embedded and industrial markets.
Our Arria ® 10 SoC som is specially designed for customer needs. Our sales team is available to advise you on the best solution according to your needs, at sales@reflexces.com.
Tech specs
Full specifications - Indus versions
Features
Description
Achilles "Turbo" V2
Achilles "Indus" V2
Achilles "Indus" V5
NEW
Achilles "Indus" 12G V5
NEW
FPGA SoC
Arria® 10 SoC, F34 package (1152 pins)
10AS066H2F34I1HG, speed grade -1
660KLE, 1688 DSP Blocks
Dual-Core ARM® Cortex®-A9 MPCore Processor
10AS066H2F34I1HG, speed grade -1
660KLE, 1688 DSP Blocks
Dual-Core ARM® Cortex®-A9 MPCore Processor
DDR4 Memory
32bit wide bank for FPGA
4GByte @2400MT/s
2GByte @2400MT/s
4GByte @2400MT/s
32bit wide bank for HPS
3GByte @2400MT/s
2GByte @2133MT/s
3GByte @2400MT/s
Communication & Networking
2x Gigabit Ethernet  RGMII on the HPS
2x Gigabit Ethernet  RGMII on the HPS
USB 3.0 using Cypress FX3 super speed controller
USB 3.0 using Cypress FX3 super speed controller
USB 2.0 host/device OTG support connected to the HPS
USB 2.0 host/device OTG support connected to the HPS
I²C link support connected to the HPS,EEPROM, Sensor Temp
I²C link support connected to the HPS,EEPROM, Sensor Temp
UART connected to System controller and to HPS
UART connected to System controller and to HPS
FMC Connectors
Top Left
High Pint Count (HPC)
Power Suplies Output: +12/+3.3V/1.8V/ +VADJ = +1.8V
Power Suplies Output: +12/+3.3V/1.8V/ +VADJ = +1.8V

X

80 LVDS pairs (1.25Gbps) or 160 single ended LVCMOS1.8V
80 LVDS pairs (1.25Gbps) or 160 single ended LVCMOS1.8V
10 Serial transceiver channels (RX and TX) @7Gbps
10 Serial transceiver channels (RX and TX) @7Gbps
Top Right
Low Pin Count (LPC)
Power Suplies Output: +12/+3.3V/1.8V/ +VADJ = +1.8V
Power Suplies Output: +12/+3.3V/1.8V/ +VADJ = +1.8V

X

33 LVDS pairs (1.25Gbps) or 68 single ended LVCMOS1.8V
33 LVDS pairs (1.25Gbps) or 68 single ended LVCMOS1.8V
10 Serial transceiver channels (RX and TX) @7Gbps
10 Serial transceiver channels (RX and TX) @7Gbps
Bottom Left
High Pint Count (HPC)
No Power supply, respect +VADJ electrical standard (+1.8V)
No Power supply, respect +VADJ electrical standard (+1.8V)
80 LVDS pairs (1.25Gbps) or 160 single ended LVCMOS 1.8V
80 LVDS pairs (1.25Gbps) or 160 single ended LVCMOS 1.8V
10 Serial transceiver channels (RX and TX) @7Gbps
10 Serial transceiver channels (RX and TX) @7Gbps
10 Serial transceiver channels (RX and TX) @12Gbps
Bottom Right
Low Pin Count (LPC)
Power Suply +12V
Hard Processing ARM peripheral I/Os (GbE,USB2.0,I²C,UART)
Power Suply +12V
Hard Processing ARM peripheral I/Os (GbE,USB2.0,I²C,UART)
33 LVDS pairs (1.25Gbps) or 68 single ended LVCMOS 1.8V
FPGA peripheral I/Os (GPIF II= USB3.0)
33 LVDS pairs (1.25Gbps) or 68 single ended LVCMOS 1.8V
FPGA peripheral I/Os (GPIF II= USB3.0)
4 Serial transceiver channels (RX and TX) @10Gbps
10 Serial transceiver channels (RX and TX) @7Gbps
4 Serial transceiver channels (RX and TX) @10Gbps
10 Serial transceiver channels (RX and TX) @7Gbps
14 Serial transceiver channels (RX and TX) @12Gbps
FPGA Configuration
Onboard JTAG configuration circuitry to enable configuration over USB
Onboard JTAG configuration circuitry to enable configuration over USB
512Mb Quad SPI Flash for remote upgrade and failsafe configuration
512Mb Quad SPI Flash for remote upgrade and failsafe configuration
Software Configuration
Nand Flash eMMC (Store operating Linux system :  U boot, Kernel and RootFS)
32GByte
32GByte
Module dimensions
86mm x 95mm (3.4 x 3.8 inches)
83.1 x 95 mm (3.3 x 3.8 inches)
Weight
Turbo/Indus module without Mechanics: 87.8g
Heat Spreader: 93.9g | Heat Sink: 86.9g | Fan: 15.7g
Indus/Indus 12G module without Mechanics: 87.8g
Heat Spreader: 93.9g | Heat Sink: 86.9g | Fan: 15.7g
Temperature range
Commercial
Industrial
Industrial
Deliverables
Arria® 10 SoC module (+ heat spreader, heat sink and fan)
Arria® 10 SoC module (+ heat spreader, heat sink and fan)
Ordering Information
RXCA10S066PF34-SOM00T
RXCA10S066PF34-SOM01I
RXCA10S066PF34-SOM02I
RXCA10S066PF34-SOM12I
Full specifications - Lite versions
Features
Description
Achilles "Lite" V2
Achilles "Lite" 12G V5
NEW
FPGA SoC
Arria® 10 SoC, F34 package (1152 pins)
10AS027H3F34E2SG,  speed grade -2
270KLE, 830 DSP Blocks
Dual-Core ARM® Cortex®-A9 MPCore Processor
10AS027H3F34E2SG,  speed grade -2
270KLE, 830 DSP Blocks
Dual-Core ARM® Cortex®-A9 MPCore Processor
DDR4 Memory
32bit wide bank for FPGA
2GByte @2133MT/s
4GByte @2133MT/s
32bit wide bank for HPS
2GByte @2133MT/s
3GByte @2133MT/s
Communication & Networking
2x Gigabit Ethernet  RGMII on the HPS
2x Gigabit Ethernet  RGMII on the HPS
USB 2.0 host/device OTG support connected to the HPS
USB 2.0 host/device OTG support connected to the HPS
I²C link support connected to the HPS,EEPROM, Sensor Temp
I²C link support connected to the HPS,EEPROM, Sensor Temp
UART connected to System controller and to HPS
UART connected to System controller and to HPS
FMC Connectors
Top Left
High Pint Count (HPC)

X

X

Top Right
Low Pin Count (LPC)

X

X

Bottom Left
High Pint Count (HPC)
No Power supply, respect +VADJ electrical standard (+1.8V)
No Power supply, respect +VADJ electrical standard (+1.8V)
34 LVDS pairs (1.25Gbps) or 68 single ended
LVCMOS 1.8V
34 LVDS pairs (1.25Gbps) or 68 single ended
LVCMOS 1.8V
10 Serial transceiver channels (RX and TX) @10Gbps
10 Serial transceiver channels (RX and TX) @12Gbps
Bottom Right
Low Pin Count (LPC)
Power Suply +12V
Hard Processing ARM peripheral I/Os (GbE,USB2.0,I²C,UART)
Power Suply +12V
Hard Processing ARM peripheral I/Os (GbE,USB2.0,I²C,UART)
33 LVDS pairs (1.25Gbps) or 68 single ended LVCMOS 1.8V
FPGA peripheral I/Os (GPIF II= USB3.0)
33 LVDS pairs (1.25Gbps) or 68 single ended LVCMOS 1.8V
FPGA peripheral I/Os (GPIF II= USB3.0)
14 Serial transceiver channels (RX and TX) @10Gbps
14 Serial transceiver channels (RX and TX) @12Gbps
FPGA Configuration
Onboard JTAG configuration circuitry to enable configuration over USB
Onboard JTAG configuration circuitry to enable configuration over USB
512Mb Quad SPI Flash for remote upgrade and failsafe configuration
512Mb Quad SPI Flash for remote upgrade and failsafe configuration
Software Configuration
Nand Flash eMMC (Store operating Linux system :  U boot, Kernel and RootFS)
8GByte
32GByte
Module dimensions
86mm x 95mm (3.4 x 3.8 inches)
83.1 x 95 mm (3.3 x 3.8 inches)
Weight
Lite module without Mechanics: 78.8g
Heat Spreader: 93.9g | Heat Sink: 86.9g | Fan: 15.7g
Lite 12G module without Mechanics: 78.8g
Heat Spreader: 93.9g | Heat Sink: 86.9g | Fan: 15.7g
Temperature range
Commercial
Commercial
Deliverables
Arria® 10 SoC module (+ heat spreader, heat sink and fan)
Arria® 10 SoC module (+ heat spreader, heat sink and fan)
Ordering Information
RXCA10S027PF34-SOM00L
RXCA10S027PF34-SOM12L
Videos
Arria® 10 SoC disruptive System-on-Module by REFLEX CES :
Achilles Workshop by REFLEX CES :
Object detection demo using FPGA DNN IP :
Below are the videos regarding The Achilles DevKit :
Setting up your REFLEX CES Achilles Development Kit :
Exploration of REFLEX CES' Graphical User Interface (GUI) for the Achilles Development Kit :
Deliverables
Deliverables
Arria® 10 SoC module (+ heat spreader, heat sink and fan)
The following deliverables are only included with the purchase of an Arria® 10 SoC SoM Instant-DevKit:
Module, Starter board, PCIe carrier board documentation (Reference Manual, Starter Guide)
Starter board & PCIe carrier board schematics
Carrier Design Guide
Mechanical drawings PDF, 3D Step, Assembly files PDF
HDL Test Designs

Built with Intel® Quartus® Prime Pro Version 21.3

 FPGA HPS Software

Includes U-Boot bootloader (v2021.07) and Linux kernel (v5.10) to run an embedded Linux OS on the FPGA HPS
Built with Yocto Project version 4.0 (Kirkstone)

Online support at support.reflexces.com
ECCN
Achilles v2
ECCN Number : 4A994i
CECC (commodity Export Classification Certificate) : Download certificate
Achilles v5
ECCN Number : 4A994i
CECC (commodity Export Classification Certificate) : Download certificate
Applications
JESD204B demonstration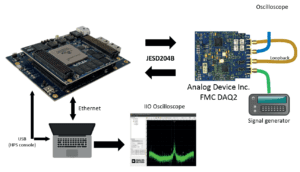 FPGA resources (HPS included)
ALM: 28k (11%)
Reg: 48k (10%)
LUT: 31k
M20K: 608 (29%)
DSP: 16 (1%)
IOPLL: 5 (45%)
HSSI (TX + RX): 4 + 4
ADC, DAC and JESD204B setup
DAC:

4 lanes @5Gbps
Fsample: 500MHz

ADC:

4 lanes @5Gbps
Fsample: 500MHz
Power*
Complete setup: 28W
FPGA (est.**): 8W
* Including FAN: 1.3W
** Quartus Power Estimator