View this newsletter in your browser
Newsletter
Q3 – 2019
Dear all,
This edition of the quarterly newsletter will highlight our extension of our portfolio, specifically with the SoC version of the Sargon board, and the Lite version of the COMXpress board. Happy reading !
Highlight of the quarter
BOARD VERSION ADDITIONS
Sargon Stratix® 10 SoC FMC+ PCIe board – SX version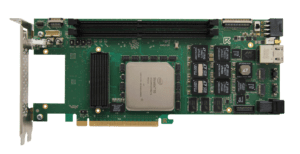 The Stratix® 10 SoC FMC+ board is a PCIe Gen3 x16 board.
The board is based on the Intel® Stratix® 10 SX 1650 KLE FPGA, H-Tile 26G version.
The SoC version of this board allows the developer to use the features of the SoC chip to ease development and increase system integration.
BENEFITS AND FEATURES
Intel® Stratix® 10 SX 1650 KLEs
PCIe Gen3 x16
Board Management Controller (BMC) for monitoring, NOR Flash and clock programming
1x FMC+ (VITA57.4) interface with 24 transceivers
GPIO and transceiver extension connector
48 dedicated HPS IO connector (daughter board for SX)
Target applications:
High Performance Computing
IP & ASIC Prototyping
> You also can discover here the original version with GX 2800 KLE FPGA
COMXpress Stratix® 10 SoC Lite version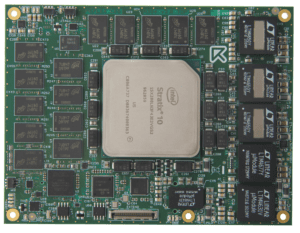 The COM Express Basic module is a small form factor FPGA board with an embedded SoC.
The Lite version of the board is based on the Intel® Stratix® 10 SX 1100 KLE FPGA, allowing a significant cost reduction with the best-in-class technology.
BENEFITS AND FEATURES
COM Express Basic form factor Module, Type 7 pinout
Intel® Stratix® 10 SX Technology – 2800 or 1100 KLE density
Designed for High Performance Computing and Acceleration
32 PCI Express lanes
IO and Transceiver extension connector
Target applications:
IP prototyping
Industrial
Military and Aerospace
Test & Measurement
Machine and Intelligent Vision
Video Broadcast and video application
HPC and data center
You also can discover here the Turbo version, 2800 KLE FPGA
Artificial Intelligence focused, ultra-dense, 4 FPGA, 2 CPU, 1 rack server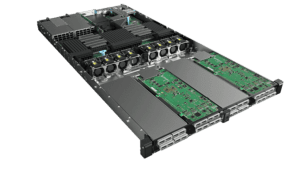 This modified server is built on the Dell EMC C4140, for your HPC and Networking needs.
It includes 4 single PCIe slot Gen3 x16 FPGA Stratix® 10 GX 2800KLE boards, 2 Intel® Xeon® C4114 processors, and 16, 32 or 48 ports x40/100 Gigabit Ethernet.
The XpressGX S10-FH800G board is a full height PCIe board using Intel® Stratix® 10 GX 2800 KLE FPGA, designed for Acceleration and Low Latency Applications :
> PCIe Gen3 x16
> 4 independent memory banks compatible with DDR4 and/or QDR2+
> 4 QSFP-DD optical cages, QSFP28 compatible
> BMC
> 3 Ultraport Slim SAS connectors for storage solution
Target markets of the server include Oil & Gas, Finance, Defense, Data Center, Medical, Automotive and Energy.
> Get first hand information !
Zoom on…
The new REFLEX CES / SAMTEC demo :
The Sargon Stratix® 10 FPGA FMC+ Development Kit, running with a 28Gbps FireFly FMC+ board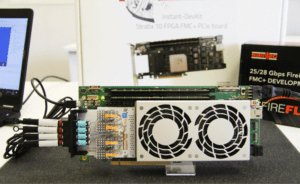 The objective of the demo is to show the loopback to and from Stratix® 10 FPGA SerDes, through optics FMC connectivity and FireFly cable MPO. The good signal integrity is demonstrated with the creation of a Quartus Eye Diagram.
Tradeshow…
REFLEX CES showing the OpenVINO™ solution demo (CPU + FPGA) at the ACT USA event in Denver