XpressGX S10-FH800G
Presentation of the Stratix® 10 GX board
The XpressGX S10-FH800G Stratix® 10 GX board is a full-height profile PCIe Network Processing board, featuring the Intel® Stratix® 10 FPGA with support for up to 800 GB Ethernet.
The Stratix® 10 GX board is based on a Stratix® 10 GX FPGA. This device is optimized for PFGA applications that require high transceiver bandwidth and core fabric performance.
To optimize customer memory needs, the board offers on-board memory as well as external memory cards (DDR4 or QDRII type, or mixed memory).
The FPGA board is delivered with a 1-slot PCIe passive heatsink, and is specifically optimized for embedded applications.
Target markets include data centers and cloud computing, security, high-performance computing, military and defense, broadcasting and video.
A 100G Ethernet packet processing Reference Design, developed for the XpressGX S10-FH800G PCIe board, is available. Discover our video to know more.
The reflex ces Toolkit is provided with the XpressGX S10-FH800G board.
Benefits & features
Full height PCIe board using Intel® Stratix® 10 GX 2800 KLE FPGA
Designed for Acceleration and Low Latency Applications
PCIe Gen3 x16
4 independent memory banks compatible DDR4 and QDR2+
4 QSFP-DD optical cages, 10/25/40/100 GbE
Board Management Controller (BMC)
3 Ultraport Slim SAS connectors for storage solution
The Stratix® 10 is one of the best-performing and latest FPGA families developed by Intel®. Delivering an unprecedented doubled performance, up to 70% lower power (leading to lower power consumption), up to 10.2 million LEs, and the highest level of system integration, the Intel® Stratix® 10 processor is uniquely positioned to address next-generation, high-performance systems in the most demanding applications. This semiconductor device is optimized for FPGA applications that require the highest transceiver bandwidth and core fabric performance.
The Peripheral Component Interconnect Express, commonly known as PCI Express, is a high-speed serial computer expansion bus standard. Added to an Intel Stratix® 10 FPGA, it makes our boards quick and efficient.
FPGAs (field programmable gate arrays) are used to offer high-capacity logic and memory storage.
Our Stratix® 10 GX PCIe board offers primary interfaces and components, such as memory (on-board and external, DDR4 or QDRII+), PCB, HDMI, CPU, JTAG, FPGA, PCIe, switches, power supply, high-speed transceivers, and more.
Our Stratix® 10 GX full height profile board is designed to fit into various servers and chassis from the market, as well as custom rack systems of embedded applications.
We draw on our firmware, hardware, and software skills, and available schematics and design tools to significantly reduce the time to market for your embedded project.
Our Stratix® 10 GX PCIe board is specially designed for customer needs and specifications.
Our sales team is available to advise you on the best solution according to your needs, at sales@reflexces.com.
Tech specs
FPGA Configuration
Stratix® 10 GX, H-tile
USB2.0 Micro connector for JTAG, UART and BMC
1x NOR Flash 1GB quad SPI FPGA AS configuration
Memory
On board memory module with mix memory type DDR4 or QDRII
0 to 4 banks DDR4, 8GBytes each, x72bits, up to 2400MT/s
0 to 4 banks QDRII+ 576Mbits each, x36bits, up to 550MHz
Communication Interfaces
PCI Gen3 x16
4x QSFP-DD optical cage (4 x 8 XCVR : 28 Gb/s capable per XCVR link)
QSFP-DD compatible with QSFP28 transceivers
3x Ultra port slim SAS connector (NVMe interface capable, SFF-8654, 1 interface 28 Gb/s capable 8 XCVR)
Operating Range : 0°C to 40°C
Storage Temp Range : 0°C to 70°C
Board Dimensions : 254mm x 111.15mm, single slot PCIe
Power
Max 200W
Powered by the PCIe slot and a 8-pins ATX eternal connector (additional power)
Other resources
Programmable PLL oscillators (Si5342 & Si5344), output clocks frequency between 0.0001 MHz to 750 MHz to manage memory and transceivers clock frequency
High precision oscillator, clock accuracy 20MHz- 0.05ppm for Precision Time Protocol (PTP) IEEE 1588
One coax connector for PPS (pulse per second)
Max10 USB Blaster on board, UART over USB interface
PMBus interface
Standards and compliance
RoHS/REACH compliant
UL certified
ISO9001 Facility
Dev Framework
100G Ethernet packet processing Reference Design
This reference design is a 100G Ethernet architecture for look-up table based packet processing.
It has been specially designed for Anti-DDoS, IP filtering and bandwidth allocation applications.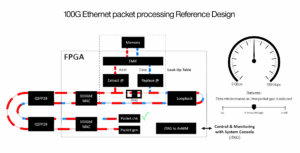 When data rate is slow as shown above -> we notice a high inter-packet gap.
Data rate then increases as the inter-packet gap is reduced.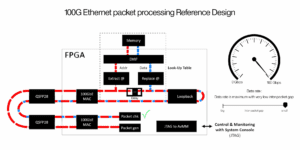 When data rate is maximum as shown above, the inter-packet gap is very low
Videos
REFLEX CES Stratix® 10 standard PCIe boards comparison :
The XpressGXS10-FH800G Stratix® 10 FPGA PCIe board, First FPGA board ever capable of 800Gbps Ethernet connectivity :
The Hydra 14S Server, a 1U High-density FPGA-based Server with 32 ports 100 GbE Ethernet :
Introduction to the REFLEX CES Toolkit :
Deliverables
Deliverables
Full height 1 slot PCIe board with passive heat-sink and PCIe bracket
Board Support Package (Manuals, HDL reference designs)
4 memory modules DDR4 or QDRII+ (depends on the board version)
DWF/STEP models and 2D drawing (upon request)
LTPowerPlay project
Online support at support.reflexces.com
WinDriver™ PCIe device driver from Jungo
Ordering Information
XpressGXS10H-FH820GT              //         Intel® Stratix® 10 GX H-Tile (1SG280HU1F50E2VG), 4 banks DDR4, 1-slot PCIe passive heatsink
XpressGXS10H-FH801GT               //         Intel® Stratix® 10 GX H-Tile (1SG280HU1F50E2VG), 4 banks QDRII+, 2-slot PCIe active heatsink
XpressGXS10H-FH822GT              //         Intel® Stratix® 10 GX H-Tile (1SG280HU1F50E2VG), without memory, 1-slot PCIe passive heatsink
Toolkit
The reflex ces Toolkit makes it fast and easy to get started with our XpressGXS10-FH800G !
> Quick configuration of a design and programmation of the board, to test all the interfaces available
> Generation of a complete HDL project, including IP and test modules selected by the user through the graphical interface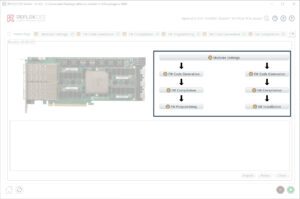 The design flow summarizes all running and deactivated tasks, and follow a logical order.
The reflex ces PCIe SDK (drivers, an API, and a test HMI provided as a software example) is included in the Toolkit.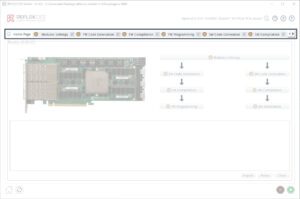 7 tasks are available on the upper banner, and can be activated and deactivated by clicking on the check box.
A page is dedicated to each task, with its specific technical information.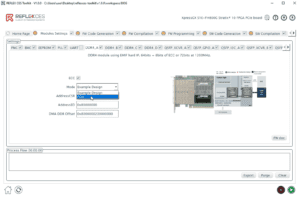 The generated design is fully customizable.
On the module settings tab, users can choose and configure only the interfaces required for their application.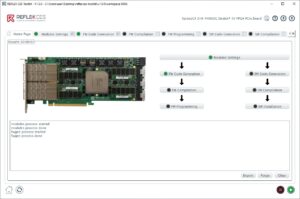 The status of the currently running task is indicated by the color of the LED.