View this newsletter in your browser
Newsletter
Q2 – 2020
Dear Customer,
This edition of the quarterly newsletter will highlight our Achilles Arria® 10 System-on-Module.
Launched in 2016, this popular module combines the flexibility and ease of programming of a CPU with the configurability and parallel processing power of an FPGA.
With no less than 1500 pieces sold to 50 different customers, Achilles has already proven its high value in the industrial world.
Sold as a Development Kit with the Starter Carrier board, or with a PCIe carrier board sold separately, Achilles will address all your issues and application requirements.  The Module is also available for purchase separately for production systems.
A new "Golden System Reference Design" is now available for Achilles on the rocketboards.org Linux community website. The Reference Design demonstrates several features of the Arria 10 SoC FPGA and Module:
Quartus Prime Pro FPGA reference design with HPS system configuring the available hardware peripherals on Achilles SoM and Starter carrier board
Generation of latest available HPS software components using Yocto Project build flow
FPGA configuration from HPS
Application of devicetree overlay
USB gadget support
Visit the updated Achilles rocketboards.org page and click the "Start Here" button.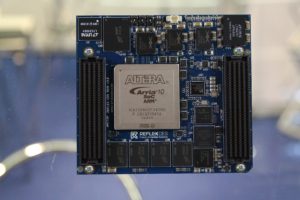 Happy reading !
Which applications will fit my Achilles Arria® 10 SoC Module ?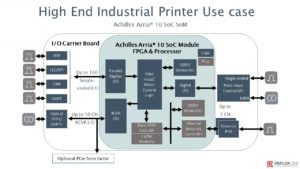 This use case above shows an Industrial Printer requiring support for multiple I/O protocols coming from the I/O Carrier Board. The Achilles module was able to support this due to the high I/O count available on both of the top FMC connectors, including support for both single-ended and differential standards.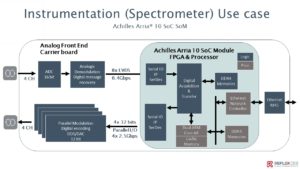 The use case above shows multiple ADC & DAC data converters connected to Achilles via FMC Connectors for an Spectrometer application. The integrated Ethernet interface supports connection to a Front End Data Server, with additional FPGA and HPS I/O available for digital connectivity to Ethernet​.
The examples above are just a few amongst others. The Achilles module can fit numerous industrial applications due to its small module size and powerful FPGA processing capabilities.
Our sales team is available to help you develop your own project with your respective application.
Contact sales@reflexces.com for more information !
Video content regarding my Achilles Arria® 10 SoC Module
Video presentation of the Achilles Arria® 10 SoC SoM :
Workshop on the Achilles Arria® 10 SoC SoM :
Unboxing your REFLEX CES Achilles Arria® 10 Development Kit :
Exploration of REFLEX CES' Graphical User Interface (GUI) for the Achilles Development Kit :
Questions regarding my Achilles Arria® 10 SoC Module ?
You have not yet ordered the module, but want to know about the kit contents or available interfaces?
You have already received your module, but are having trouble getting started, or wonder which hardware development tool to use ?
Check our FAQ ! Implemented with a lot of questions and answers, it should quickly help you.
If the answer to your issue is still not here, our Support team will take over.
Where to buy my Achilles Arria® 10 SoC Module ?
Mouser's BUY NOW buttons are available on each product page. If there is stock, you can directly buy online your module !
If no stock, do not hesitate to contact our sales team at sales@reflexces.com