View this newsletter in your browser
Newsletter
Dear Customer,
We wish you a very Happy New Year.
It's already our 10th newsletter! Thank you for taking time to read it every quarter.
Feel free to respond to this email and let us know what you would like to see more in this quarterly newsletter.
Today, we are pleased to offer a preview of our brand new board based on the Intel® Agilex™ I-Series FPGA: the XpressSX AGI-FH400G Agilex™ I-series SoC PCIe board.
This PCIe board has been specifically designed for Security, SmartNIC and Networking Acceleration.
This full-height, half-length PCIe board will offer quality and reliability for all of your embedded projects.
You will find the main technical details in this newsletter. 
However, our sales team is always available to discuss your own project and your respective application. Feel free to contact them for availability and pricing too, at 
sales@reflexces.com
Happy reading !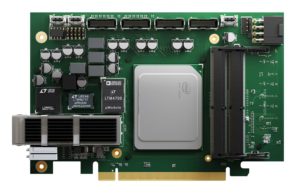 The XpressSX AGI-FH400G Agilex™ SoC Full-height, half-length PCIe board
Intel® Agilex™ I-Series SoC
Quad Core ARM® Cortex® A53
2700 KLE
PCIe Gen5 x16, CXL™ standard
400GbE (8 x 56)
3x banks DDR4 up to 68GBytes, up to 2666 MT/s
4x HSI connectors (PCIe Gen5 x16 EP/RC)
Easy to use Development Framework:

⸱ Set of open-source IP cores for data manipulation
⸱ Automatic scripts for complete design synthesis
⸱ Single make command to create complete FPGA bitstream
⸱ Bitstream identification through DeviceTree ROM
⸱ Easy to use software stack in a single RPM package
⸱ Linux kernel driver, DPDK support, user space library, tools for the configuration of components
⸱ Easy creation of custom application by user-friendly API for component access and DMA transfers
⸱ Fully parameterizable and modular hardware and software architecture


Target Network Applications
Hardware acceleration of precise network monitoring, IDS/IP systems, next generation firewalls, test equipment, anti-DDoS and other time-critical networking applications.
Only one card for 10, 40, 100, 200 and 400 GbE link speeds.
Network monitoring probes
▪ high-speed packet capture with up to 512 receive queues, DPDK support
▪ Tracking states of network connections in DRAM memory
▪ Extraction of features for encrypted traffic analysis
▪ PCIe bandwidth can be increased by connector
Security devices
▪ Hardware filters and pattern matching to accelerate IDS/IPS systems
▪ Precise packet filtering and packet capture for lawful interception
▪ Anti-DDoS with hardware IP or flow filtering controlled by software
Ordering part number: XpressSXAGI-FH400GT
Download the flyer HERE