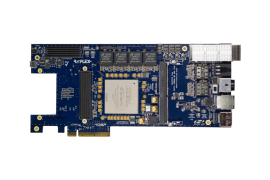 Press Release – Embedded World 2015
Embedded World 2015: ReFLEX CES Showcases Extended High-Speed FPGA Boards Portfolio.
Unveils Arria10 FPGA Boards Line
Hall 5, Stand 5-181, February 24-26, 2015, Nurnberg, Germany
Nurnberg, Germany, Embedded World 2015, February 18, 2015 – ReFLEX CES, a leading European-based provider of custom embedded and complex systems, will showcase its expertise in the design and manufacture of complex FPGA boards at Embedded World 2015. Highlights of the stand include FPGA boards incorporating Altera's brand new Arria10 FPGA and SoC lines. Additional displays will illustrate the company's broad product offering, ranging from FMC daughter boards to high-speed computers, including System-onModule solutions derived from its FPGA-based SoC design expertise. A video show will demonstrate highperformance GigE vision systems.
Embedded World 2015, provides the perfect platform for ReFLEX CES to reveal how it is further extending its proven position in FPGA-based solutions:
New Arria10 boards
ReFLEX CES is taking advantage of this exhibition to announce new FPGA boards based on the Arria10 family of FPGAs from Altera. An Arria10 GX FPGA board and an Arria10 SoC board are the first milestones on a roadmap covering Altera Generation10 FPGAs targeting a wide range of applications in many industries, including military & defense, communications, broadcast, high-performance computing, test & measurement and medical.
High-speed FPGA boards from PLDA & Accelize
The company's extended range of FPGA boards, previously sold by sister companies, PLDA and Accelize, will be on-hand. On display will be FPGA accelerator boards, network processing boards, prototyping boards namely the XpressGX4, XpressGX5, XpressK7, XpressV7, XPressKUS and the SoM (System-on-Module) product lines based on Xilinx and Altera FPGA devices.
High-performance GigE vision systems
A GigE vision video demonstration based on a Cyclone 5 FPGA board will illustrate the company's baseboard design, custom embedded design (system, board, firmware and software) expertise, and manufacturing capabilities.
FMC daughter boards
A further highlight of the stand is the range of FMC daughter boards and VPX boards from 4DSP, dedicated to advanced signal processing functions for military, instrumentation and medical applications. Committed to ambitious plans for growth, ReFLEX CES is actively hiring engineers in hardware, software, firmware, CAD, mechanics and complete systems development. ReFLEX CES achieved a growth of more than 20% in 2014 to reach revenue of 9.5 million euros.
Interviews and Information
To schedule a meeting with ReFLEX CES, please email epenain@reflexces.com.
For more information about ReFLEX CES, please visit www.reflexces.com
About Reflex CES
ReFLEX CES provides turnkey custom embedded and complex systems, and specializes in Modified-Off-TheShelf (MOTS) solutions for VPX/OpenVPX, CompactPCI, VME rugged systems, embedded systems, industrial systems, high-speed boards, FPGA boards and PCIe boards. Its expertise ranges from chip-level and softwarelevel designs up to complete system-level designs, plus manufacturing services including the production of small and medium volumes, targeting customers in the military/aerospace, defense, telecommunications, medical and industrial sectors. For more information, please visit http://www.reflexces.com
All trademarks and trade names are the property of their respective owners.
-end-
Press contact
Chantal Cochini, l'Ops PR, +33(0)6 22 98 03 80, Chantal.cochini@lops.fr