Modified commercial off-the-shelf boards
Modified COTS, or MOTS, is a modification made to a standard reflex ces COTS board, tailored to your specific requirements. MOTS can be created with the objective of reducing costs. Modifications can include adding interfaces, depopulating the board, reducing the density of FPGAs, finding workarounds, and more.
In many markets, technologies become outdated over the lifetime of the project and customers need to migrate their boards to newer technologies for sensitive devices, such as FPGAs, memories, PCBs, etc. reflex ces can respin boards using long-lasting components and materials, and even add new features.
Memory is one of the components with the shortest lifecycle. The board engineering teams' expertise enables reflex ces to offer alternative memory components for MOTS products.
The example below shows the evolution in technology (from a MOTS based on an Intel® Stratix® IV FPGA to a COTS based on an Intel® Arria® 10 FPGA) resulting in massive performance improvements despite both projects having the same objectives.
Highlights:
PCIe Gen2 x8 -> PCIe Gen3 x8
Intel® Stratix® IV GX -> Intel® Arria® 10 GX
10G Ethernet -> 80G Ethernet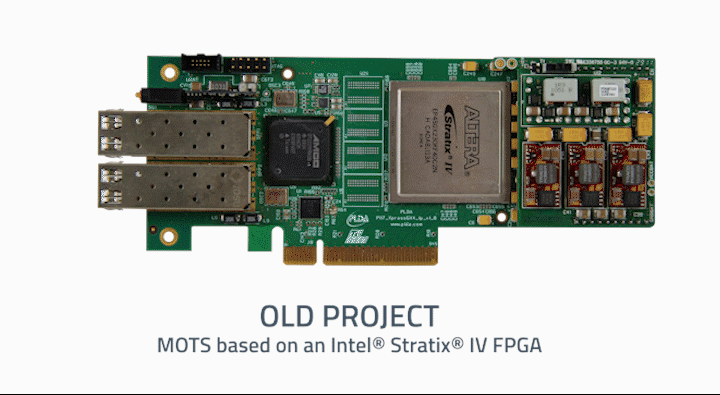 Power dissipation and integration are increasingly important given the growing thermal challenges of high-end FPGAs and larger bills of materials for surrounding components (power tree, memory devices, optical cages, etc.). The latest FPGA generations have more than doubled power dissipation with all the programmable logic available, numerous high-speed transceivers at 28 Gbps or more, and exponential numbers of I/O pins.
Additionally, customers want to use more FPGA boards in their systems. Integration therefore becomes a challenge as many systems are not optimized for PCIe FPGA boards (airflow direction, airflow guides, fan specification, cavities, etc.).
reflex ces can work with you to determine whether the generic board heatsink is sufficient for your project, or if a specific custom heatsink needs to be developed (passive or active cooling) based on thermal simulations. We also help you to determine the server necessary for your project, which depends on its configuration (PCIe slot, riser option, CPU configuration, etc.).
reflex ces uses off-the-shelf servers that we can modify, but we can also design a full turnkey system for your dedicated embedded application.
This example shows the evolution of a COTS off-the-shelf board (Stratix 10 200G PCIe) to a MOTS board with 2-slot passive dissipation. Our customer wanted to reduce air flow while maintaining performance levels.
Highlights:
1-slot passive dissipation -> 2-slots passive dissipation
Based on the Stratix® 10 200G PCIe board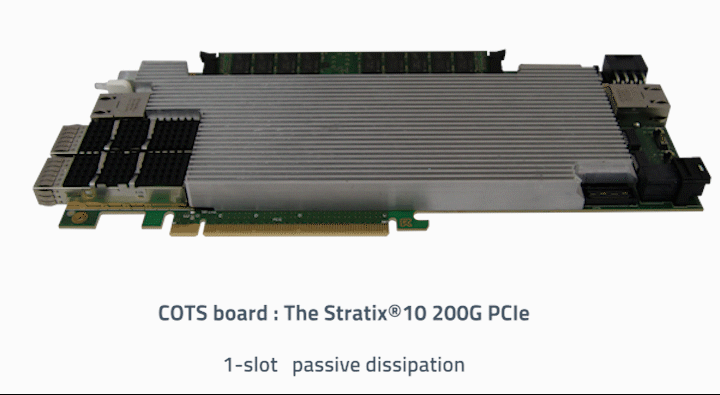 This example shows the evolution of a COTS off-the-shelf board (Stratix® 10 GX 80G PCIe board with a 1-slot passive heatsink) to a MOTS board with a 2-slot active heatsink. Our customer wanted to increase thermal transfer by creating more airflow around the heatsink.
Highlights:
1-slot -> 2-slots
passive dissipation -> active dissipation
Based on the Stratix® 10 GX 800G PCIe board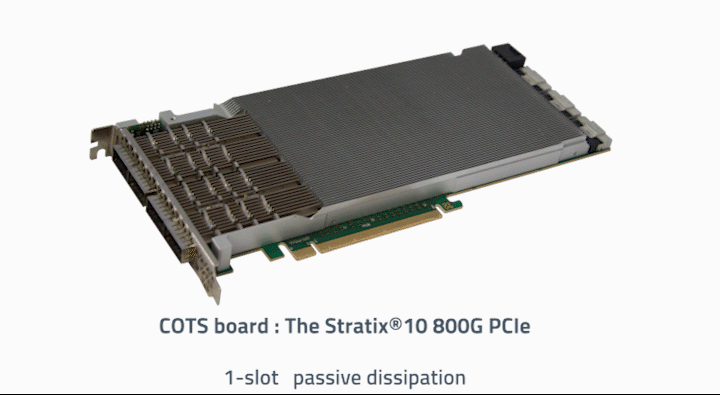 A major and potentially critical part of the design is connectivity, to ensure the signal integrity of high-speed transceivers. One of our key skills at reflex ces is assessing how we can modify connectivity components within the design in order to meet project needs, with the lowest impact on the overall design and its development cycle, and then securing those changes. This can be achieved by modifying the connectivity at the PCIe bracket, with optical cages or an FMC connector at the front end of the board, by adding specific extension connectors (GPIO, transceivers) for board-to-board communication, or by adding storage capabilities or video inputs/outputs, for example.
This example shows the connectivity customization of a COTS board. One of the optical cages has been removed to add monitoring and programming interfaces on the top.
Highlights:
PCIe Gen3 x8
Intel® Arria® 10 GX 1150 KLE board
4 GB DDR4 -> 8GB DDR4
Dual QSFP+ cages > 1 QSFP+ cage
Some vertical applications have very specific requirements, including in terms of clocking / PLL speed and accuracy, connectors that meet certain standards, FPGA speed grade for the core or the transceivers, temperature range, or the qualification process. We can study and modify our boards to fit your specific requirements and conditions.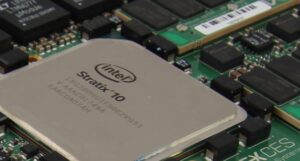 Intel® Stratix® 10 FPGA
Modified COTS benefits
Our MOTS are based on ready-made reflex ces standard off-the-shelf COTS boards, with as few or as many modifications as necessary to meet your specific business needs and requirements.
The main benefits of MOTS are high product reliability, as they have already been developed, tested and produced, quick deployment resulting in cost savings, an advantage over competitors, and profitability from a cost-effective solution.
Any constraints are taken into account within your requirements.
reflex ces MOTS boards are compliant with applicable electronic standards and can undergo additional certifications according to your needs.
It is the perfect solution to reduce costs or shorten time to market.
reflex ces also offers rugged and rackmount systems, and full turnkey solutions.
Modified COTS specifications
reflex ces commercial off-the-shelf boards are modified, customized, and tailored to your needs and requirements. The final product is a custom solution made from a standard off-the-shelf product.
Modifications can cover hardware or software development, heatsink or connectivity adjustments, and can be made at any step of the process (when integrating the board, setting up the final chassis, etc.).
We can also produce prototypes to ensure the MOTS fits your needs.