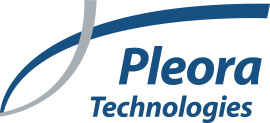 ReFLEX CES implements GigE Vision® IP from Pleora Technologies in Military Imaging System
Paris, France – April 28, 2015 – ReFLEX CES, a provider of Modified-Off-The-Shelf (MOTS) solutions and turnkey embedded systems, today announced that it has designed a complete Gigabit
Ethernet (GigE) Vision compliant video module for one of France's largest military equipment manufacturers. This advanced, high performance design has only been possible through the
implementation of the new iPORT™ NTx-GigE IP Core Package from Pleora TechnologiesPleora's iPORT NTx-GigE IP Core Package, based on an Altera Cyclone V FPGA architecture, provides a dedicated and efficient solution allowing video camera and system manufacturers to integrate GigE Vision-compliant video connectivity directly into their products.
By implementing Pleora's GigE IP Core Package, ReFLEX CES has provided a complete turnkey GigE Vision-compliant solution for its military client. It will also allow ReFLEX CES to optimise
further designs to meet unique system, form factor, or performance requirements for other applications, including industrial and medical imaging.
"We are excited to deliver our first GigE Vision-compliant video system," said Sylvain Neveu, ReFLEX CES co-founder and COO. "GigE Vision protocol benefits from wide penetration in our
targeted markets and Pleora Technologies is recognised for its leadership role in this standard. Our technical partnership with this leading supplier of high-performance video interfaces offers ReFLEX CES a great opportunity to satisfy growing customer demand for high-performance, standardscompliant GigE Vision connectivity".
ReFLEX CES has a long track record for delivering high-performance vision systems and a reputation for understanding its customers' needs however complex. The company's video solutions
range from frame grabbers to video capture cards, compression modules, video buses, digital video recorders, specialised cameras, switches, video mixers and many others types of pixel-oriented
designs.
Pleora's video interface solutions, including external frame grabbers and embedded video interface are distributed in France by Elvitec.
About GigE Vision
GigE Vision® is a global standard for video transfer and device control over Ethernet networks, including GigE, 10 GigE, and 802.11 wireless networks. The standard allows seamless
interoperability of Ethernet-based products from different manufacturers.
About Pleora Technologies
Pleora Technologies pioneered high-performance frame grabbers and embedded hardware for the delivery of video over Gigabit Ethernet, and leads the market in video interfaces for USB 3.0 and
wireless. With this spirit of innovation, Pleora engineers reliable video interfaces for system manufacturers and camera companies serving the military, medical, and industrial automation
sectors. Pleora provides end-to-end solutions that shorten time-to-market, reduce risk, and lower costs. It partners with customers and tailors its products to individual needs. Find out more at
www.pleora.com.
About ReFLEX CES
ReFLEX CES provides turnkey custom embedded and complex systems, and specialises in ModifiedOff-The-Shelf (MOTS) solutions for VPX/OpenVPX, CompactPCI, VME rugged systems, embedded systems, industrial systems, high-speed boards, FPGA boards and PCIe boards. Its expertise spans from chip-level and software-level designs up to complete system-level designs, manufacturing, and production of small and medium volumes, targeting customers in the military/aerospace, defence, telecommunications, medical and industrial sectors. For more information, please visit http://www.reflexces.com
-End-
FRENCH VERSION
ReFLEX CES met en oeuvre l'IP GigE Vision® de Pleora Technologies
Paris, 28 avril 2015 – ReFLEX CES, fournisseur de systèmes embarqués complexes personnalisés clé en main, annonce ce jour la réalisation d'un système de traitement vidéo compatible avec le
standard GigE Vision, en implémentant la nouvelle IP Core GigE Vision® de Pleora Technologies sur une architecture à base d'un FPGA Cyclone V d'Altera.
GigE Vision® est un protocole standard de transmission de flux vidéo sur des réseaux Ethernet, qui depuis sa ratification en 2006, a été adopté par la plupart des fournisseurs de solutions matérielles et logicielles de vidéo. Ce standard permet notamment l'interopérabilité des différents équipements sur une plate-forme Ethernet.
« Au-delà de l'apport immédiat d'une solution complète à son client, ReFLEX CES a choisi de mettre en œuvre cette nouvelle IP Core GigE Vision® de Pleora Technologie pour répondre à la
demande croissante de ses clients pour des solutions basées sur ce protocole » souligne Sylvain Neveu, directeur général et cofondateur de ReFLEX CES. « Ce partenariat technologique avec le
leader mondial d'interfaces vidéo haute performance, renforce les atouts de ReFLEX CES sur le marché de l'industrie du pixel, des secteurs militaire, médical et industriel notamment. »
Reconnue pour son expertise technique des systèmes de vision à haute performance et sa proximité avec ses clients, ReFLEX CES réalise des cartes d'acquisition vidéo, cartes de capture vidéo,
modules de compression, bus vidéo, enregistreurs vidéo numériques, caméras spéciales, commutateurs, mélangeurs vidéo et autres designs orientés pixels.
Les solutions d'interface vidéo de Pleora, incluant cartes d'acquisition vidéo externes et interface vidéo intégrée, sont distribuées en France par Elvitec.
A propos de Pleora Technologies
Créée en 2000, Pleora Technologies est une société canadienne reconnue comme l'un des leaders mondiaux pour la fourniture d'interfaces vidéo pour les constructeurs de caméra dans les domaines militaires, médical et de l'industrie.
A propos de ReFLEX CES
Créée en 2000 également, ReFLEX CES (Custom Embedded Systems) reconnue pour son expertise technique, est spécialisée dans la conception et la production de systèmes électroniques sur mesure, pour des systèmes à haute performance dans les secteurs militaires et industriels.
-End