Zeus SoM
Presentation of the Zeus Zynq UltraScale+ module
The Zeus Zynq® UltraScale+™ MPSoC is a system-on-module, based on the AMD ZU11EG/ZU19EG Zynq® UltraScale+™ MPSoC FPGA.
With an innovative ARM® + FPGA architecture, the Zynq® Ultrascale+™ FPGA is smarter and optimized for differentiation, analytics and control. Its large portfolio of SW and HW design tools and reference designs enables you to easily develop any project. The MPSoC UltraScale+™ FPGA provides multiprocessing capabilities, because the MPSoC (microprocessor system-on-chip) is an SoC that includes multiple microprocessors. MPSoCs usually target embedded applications.
Target markets of this Zynq® UltraScale+™ module include software defined radio, radar systems, electronic warfare, high-precision measurement, and much more.
The Zeus Zynq® UltraScale+™ module is fully compatible with the carrier board : Zeus Zynq® UltraScale+™ board.
Benefits & features
Zynq® UltraScale+™ MPSoC ZU11EG/ZU19EG
PCIe Gen2 x4 Root Complex
PCIe Gen3 x16 End Point
Quad-Core ARM Cortex-A53
304 SE IOs total (96 LVDS)
16 GTY @25.78Gbps (Top side)
32 GTH @12.5Gbps (Bot side)
3x DDR4 banks, 16GByte Total
Industrial Temp Grade
Long Term Supply
Designed for High Precision Measurement, Artifical Intelligence, Radar Systems, Software Defined Radio and "Customizable" markets
The Zynq® UltraScale+™ MPSoC family is based on AMD UltraScale™ MPSoC architecture. This family of products integrates a 64-bit quad-core A53 and dual-core ARM Cortex-R5 processing system (PS) and AMD programmable logic (PL) UltraScale architecture in a single device.
The Zynq® Ultrascale+™ MPsoC FPGA was chosen for its unmatched performance, as well as its lower system power architecture.
REFLEX CES included numerous essential components for an embedded board, developed for this FPGA: DDR4 memories, connectors, BMC, etc., and a customized software environment.
Our Zynq® UltraScale+™ module is specially designed for customer needs. Our sales team is available to advise you on the best solution according to your needs, at sales@reflexces.com
Tech specs
Features
Zeus Zynq® UltraScale+™ MPSoC
FPGA SoC
FPGA speed grade 1, Industrial Temp Range
Quad-core ARM Cortex-A53 MPCore @1.2GHz
Dual-core ARM Cortex-R5 MPCore @500MHz
Mali™-400 MP2 @600MHzZeus Indus ZU11EG : XCZU11EG-1FFVC1760I device
Programmable Logic 653 KLC
Total Block RAM 21.1MB, UltraRAM 22.5Mb, 2928 DSP Slices
Zeus Indus ZU19EG : XCZU19EG-1FFVC1760I device
Programmable Logic 1143 KLC
Total Block RAM 34.6MB, UltraRAM 36.0Mb, 1968 DSP Slices
DDR4 Memory
PL= 2 banks 4GByte each @2400MT/s, x32bit
PS= 1 bank 8GByte @2400 MT/s, x64bit + x8bit ECC
PS Communication & Networking
10/100/1000 Base-T Ethernet RGMII


43x MIO configurable for interface like: NAND flash, eMMC or SD card, ETH RGMII, USB, SPI, I2C, UART, GPIO

Top Connectors
High Speed Accelerate connectors (GTY)
4x 4 serial transceivers channel (RX and TX) @25.78Gbps
(Existing cable adapter to QSFP+ and SFP+ connectors)
Bottom Connectors
Processor (PS) Mezzanine connector
4x serial transceivers channel (RX and TX) @6Gbps
PCIe Gen2 x4 Root Complex capable
43x MIO
GTH Mezzanine connector
32x serial transceivers channel (RX and TX) @12.5Gbps
PCIe Gen3 x16 End Point capable
HP Mezzanine connectors
208x HP I/O high speed up to 1260 Mb/s, designed for high speed chip-to-chip interfaces with voltages up to 1.8V


96x LVDS capability

HD Mezzanine connector
96x HD I/O low speed up to 250 Mb/s, designed to support low speed interfaces with voltages 3.3V, 2.5V, 1.8V, 1.2V
FPGA
Configuration
JTAG available on Processor (PS) Mezzanine connector
Quad SPI
1Gbit NOR Flash for non-volatile storage, remote upgrade and failsafe configuration
Software Configuration
128GByte NAND Flash eMMC (Stores U-Boot, Linux Kernel, and RootFS)
Mechanical & Environmental Specification
Module rugged for shocks and high vibration
IEC/EN61000 (EMI immunity), EN61000 + EN55032 (EMI emission),
EN60068 (Vibration: sinusoidal, 10Hz - 2KHz, +/- 0.15mm, 2g ; Shock: half-sinusoidal, 11ms, 15g)
5-15V Power Input
Industrial temperature grade -40°C to +85°C
Conformal coating (option on request)
Power & Dissipation
Zeus Indus ZU11EG : 70W max, active heatsink (heat spreader + heatsink + fan)
Zeus Indus ZU19EG : under definition
Board Management Controller
Communication with Carrier board: I2C, UART, SMBus
Communication with FPGA : 1x UART to PL, 1x UART to PS
Monitoring : Current, voltages, temperature, ID information
Programming : Clock, QSPI FPGA, QSPI BMC
Control: Power, temperature protection, Fans
Module dimensions
107mm x 85mm (4 x 3.4 inches) / 12mm thickness (38.6mm with active heatsink and heat spreader)
Deliverables
Zeus Zynq® UltraScale+™ MPSoC module
Active heatsink with heat spreader
Ordering Information
Zeus Indus ZU11EG : RXCZUP11EGPF42-SOM01I
Zeus Indus ZU19EG: RXCZUP19EGPF42-SOM01I – available July 2023
Videos
Zeus Zynq® UltraScale+™ MPSoC System-on-Module from REFLEX CES:
UNBOXING your REFLEX CES Zeus Zynq® UltraScale+™ MPSoC System-on-Module:
Deliverables
Deliverables for the purchase of a System-on-Module:
Zeus Zynq® UltraScale+™ MPSoC module
Active heatsink with heat spreader
Ordering information
Zeus Indus ZU11EG : RXCZUP11EGPF42-SOM01I
Zeus Indus ZU19EG: RXCZUP19EGPF42-SOM01I – available July 2023
The Zeus Zynq UltraScale+ board is sold separately
Ordering information : RXCZUP-CBD0SA
The following deliverables are only included with the purchase of a Zynq UltraScale+ carrier board :
Power supply and cables (US, UK, EU, JP), micro-USB cable
Board Support Package (to download from our online technical support):

Starter Guide, Module and carrier board Reference Manuals
HDL Test Designs by interface (Vivado 2020.2 version)
100G Ethernet MAC HDL test design
Linux Kernel & Linaro optimized distribution, U-boot bootloader, Test scripts
Mechanical drawings, assembly files
Interconnect pinout file
Carrier board schematics, Carrier board Design Guide
On request: 3D step files on the module and its carrier board, Carrier board gerber files, carrier board BOM & PCB specification, S-parameters

1-year technical support
1-year warrantee
Online support at support.reflexces.com
Related products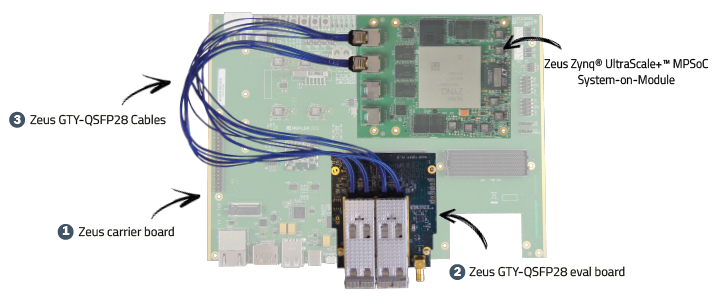 1/ Zeus Zynq® UltraScale+™ carrier board
The Zeus Carrier board is sold separately
Ordering information: RXCZUP-CBD0SA
Dimensions: 170mm x 233.35mm
The following deliverables are only included with the purchase of a carrier board :
Power supply and cables (US, UK, EU, JP), micro-USB cable
Board Support Package (to download from our online technical support):

Starter Guide, Module and carrier board Reference Manuals
HDL Test Designs by interface (Vivado 2020.2 version)
Linux Kernel & Linaro optimized distribution, U-boot bootloader, Test scripts
Mechanical drawings, assembly files
Interconnect pinout file
Carrier board schematics, Carrier board Design Guide
On request: 3D step files on the module and its carrier board, Carrier board gerber files, carrier board BOM & PCB specification, S-parameters

 1-year technical support
1-year warrantee
Online support at support.reflexces.com
2/ Zeus GTY-QSFP28 eval board
The Zeus GTY-QSFP28 eval board is sold separately
Compatible with the Zeus carrier board
2x Zeus GTY-QSFP28 cables are included in the Zeus GTY-QSFP28 eval board
Ordering information: Zeus GTY-QSFP28 eval board
Connectors
2x QSFP28 (up to 100Gbps per connector)
2x Zeus GTY-QSFP28 cables with ARC6 connectors, 12 inches length
1x Clock generator

3 outputs towards FMC connector (Clk0, CLk1, GBTCLK0)
3 inputs (SMA connector, 25Mhz local Quartz, Clk2_Bidir from FMC)
Misc: 1x E2PROM
FMC dimensions: 69mm x 72.3mm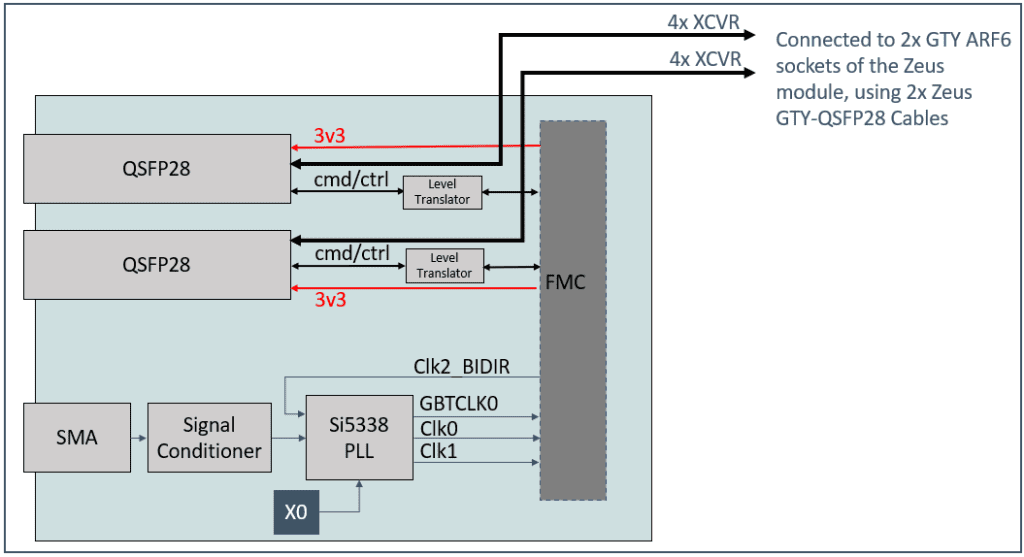 3/ Zeus GTY-QSFP28 Cable
2x Zeus GTY-QSFP28 cables are included in the Zeus GTY-QSFP28 eval board
The Zeus GTY-QSFP28 cable is sold separately with an MOQ (15)
To be used for Customer custom carrier board
12 inches ARC6 custom cable
Uses the Samtec Flyover® Technology
Connects GTY connector to QSFP-28 connector
Ordering information: Zeus GTY-QSFP28 Cable