XpressSX AGI-FH400G
Presentation of the Intel® Agilex™ board
The XpressSX AGI-FH400G Agilex™ I-Series SoC PCIe board is a full-height, half-length PCIe Gen5 Network Processing board, featuring the Agilex™ I-Series SoC FPGA and 400 GB Ethernet.
The Intel® Agilex™ board is based on an Intel® Agilex™ I-series SoC FPGA. This device is optimized for bandwidth-intensive applications that require a high-performance processor interface, supported by the CXL™ standard interface, the PCIe Gen5 x16 interface, and transceiver tiles with data rates of up to 116 Gbps.
The FPGA board is delivered with a 2-slot PCIe active heatsink and is specifically optimized for embedded applications.
Target markets are Security, SmartNIC, and Networking Acceleration.
REFLEX CES & CESNET collaborated to provide a complete solution for network security and monitoring, smart NIC, and networking acceleration applications, through the Liberouter project.
Benefits & features
Intel® Agilex™ I-Series SoC FPGA
Quad Core ARM® Cortex® A53
2700 KLE
PCIe Edge Gen5 x16, CXL™
400GbE (8 x 56)
3x DDR4 banks
4x HSI connectors (2x PCIe Gen5 x16 EP)
The main advantage of the Intel® Agilex™ board is the 400-Gigabit Ethernet capability, specially designed for SmartNIC applications.
The FPGA is an Intel® Agilex™ I-Series SoC device. Intel® Agilex™ I-Series SoC FPGA devices also integrate the quad-core ARM Cortex-A53 processor to provide high system integration.
The Intel® Agilex™ I-Series FPGA has options to integrate Compute Express Link™ (CXL™), an open standard interconnect protocol for high-speed CPU-to-device and CPU-to-memory. This standard is built on the PCIe physical and electrical interface.
The FPGA delivers up to 40% lower power for applications in data centers, networking, and edge computing.
FPGAs (field programmable gate arrays) are used to offer high-capacity logic and memory storage.
The system-on-chip (SoC) is an integrated circuit inside the FPGA, most often a CPU (central processing unit) processor and supporting peripherals, that provides more flexibility and integration, and allows the FPGA to better control the board.
Our Intel® Agilex™ board offers primary interfaces and components, such as 400 Gb Ethernet, PCIe Gen5 x16 (CXL™ compatible), HSI connectors (offering transceivers for PCI Express), power supplies, a USB 2.0 port (for JTAG, UART, BMC), high-speed transceivers, DDR4 (on-board and SO-DIMM) interfaces and more. These components are from Intel®, Micron Technology, Inc., STMicroelectronics, and Cypress Semiconductor.
The Agilex™ board has a full height, half-length, 2-slot PCI Express form factor, specially designed to fit into various servers and chassis available on the market, as well as custom rack systems for embedded applications.
The Peripheral Component Interconnect Express, commonly known as PCI Express, is a high-speed serial computer expansion bus standard. Our FPGA board offers up to three PCI Express x16 slots or two CXL™ standard interfaces. Added to an Intel® Agilex™ SoC FPGA I-series, this makes our board quick and efficient.
Reduce time to market of your next embedded project with our Agilex™ SoC board, using the Intel® Quartus Prime development tools. We draw on our firmware, hardware, and software skills, and full documentation package and reference designs to create our boards.
The Intel® Agilex™ board is RoHS and REACH standard compliant.
Our Intel® Agilex™ board is specially designed for customer needs and specifications.
Our sales team is available to advise you on the best solution to meet your requirements. Contact us at sales@reflexces.com.
Tech specs
FPGA Configuration
Intel® Agilex™ I-Series : AGIB027R29A1E2V including SoC Quad Core ARM® Cortex® A53
HPS interface : UART, USB Device, SDCARD/EMMC, 2x LED, SPI to Max 10
Flash configuration
USB 2.0 Hub for JTAG, UART, BMC, USB2
Memory
1x on-board DDR4 (mutual SoC / FPGA), x64 bit bus, 4GBytes up to 2666 MT/s
2x DDR4 SO-DIMM sockets, each capable up to 32GBytes SO-DIMM, with ECC
eMMC or SD Card holder (if used) for SoC
Power
135W max, delivered with 2-slot active cooling heatsink
Powered by the PCIe slot and an 8 pin PCIe Aux ATX external connector (additional power)
Board dimensions: Full height half length: 167.7mm x 111.15mm
Operating range: 0°C to 35°C
Storage range: 0°C to 70°C
Communication interfaces
PCIe Edge Gen5 x16
CXL™ standard compatible*:

Open standard interconnection for high-speed CPU-to-device and CPU-to-memory
Built on the PCIe physical and electrical interface

8x QSFP56-DD (8x 56G: 400G total)
2x HSI connectors (ARF6-16-L-RA): Total of 16 transceivers for PCIe Gen5 EP, CXL™ standard compatible
2x HSI connectors (ARF6-16-L-RA): Total of 16 transceivers for PCIe Gen5 EP
2x USB-C connectors for HSI Clocks & control signals
*Use of CXL™ features might require separate CXL™ IP license purchase. Please contact Intel® for details.
Other resources
Board Management Controller (Max® 10 device)
Programmable PLL
Standards and compliance
RoHS/REACH compliant
UL certified
ISO9001 certified
Additional PCIe Gen5 x16 daughter card
The XpressSX AGI-FH400G board needs to be inserted in a PCIe Gen5 compatible server in order to deliver the full PCIe Gen5 x16 performances.
In case the user is only using a PCIe Gen4 compatible server, the XpressSX AGI-FH400G is delivered with this PCIe Gen4 x16 daughter card. This way, the sytem will achieve 2x Gen4 x16 performances similar to PCIe Gen5 x16, using two R-Tile PCIe Hard IPs inside the FPGA.
The daughter card also supports x8x8 bifurcation mode.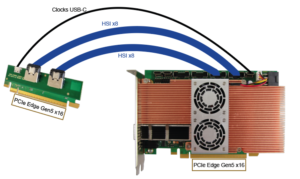 Dev Framework
NDK Development Framework
Part number: NDK-PROF-SUPPORT
Start your design from standard NIC
Provided as a free demo application
Network module based on F-Tile 400G Ethernet Hard IP
Ultra fast DMA with 400 Gbps throughput based on PCIe Gen5 x16 interface (R-Tile)
Easy to use memory interface for single read/write data from/to card
Preconfigured DDR4 controller for memory access from the user logic
Precise timestamps with 2.5 ns resolution for 400G Ethernet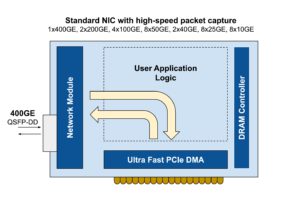 Easy to use Development Framework
Set of open-source IP cores for data manipulation
Automatic scripts for complete design synthesis
Single make command to create complete FPGA bitstream
Bitstream identification through DeviceTree ROM
Easy to use software stack in a single RPM package
Linux kernel driver, DPDK support, user space library, tools for the configuration of components
Easy creation of custom application by user-friendly API for component access and DMA transfers
Fully parameterizable and modular hardware and software architecture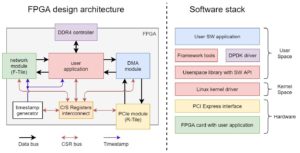 Deliverables
Deliverables
Full height half length 2-slot PCIe board with active heatsink and PCIe bracket
2x DDR4 SO-DIMM 32GByte each, one SD card
2x HSI cables (ARC6-16-10.0-LU-LD-2-1) and 1x USB-C to USB-C cables (0.72ft), 3.1 Gen2 to connect the PCIe Gen5 x16 daughter card
PCIe Gen5 x16 (Gen4 x16 compatible) daughter card
1-year technical support and 1-year warrantee
Online support at support.reflexces.com
NDK package (including DPDK NIC application) provided separately by BrnoLogic
Contact reflex ces for PCIe Gen5 CXL™ interface validation
Board Support Package (download it from reflex ces online support)

Reference Manual
FPGA HDL Full feature Design (Quartus Prime Pro Edition 23.3)
HPS Software :
Built with Yocto Project version 4.1 (langdale)
U-Boot bootloader (v2022.07), ATF Linux kernel (v5.15) and linux Poky distribution
BMC Software
Mechanical files: 3D DWF/STEP models and 2D CAD drawing (upon request)
Ordering Information
XpressSXAGI-FH400GT-ES //  Intel® Agilex™ SoC I-Series based on ES Silicon (AGIB027R29A1E2VR3)
XpressSXAGI-FH400GT // Intel® Agilex™ SoC I-Series based on Production Silicon (AGIB027R29A1E2V)
Contact sales for availability and pricing
Applications
Target Network Applications
Hardware acceleration of precise network monitoring, IDS/IP systems, next generation firewalls, test equipment, Anti DDoS and other time-critical networking applications.
Only one card for 10, 40, 100, 200 and 400 GE link speeds.

Network monitoring probes

▪ high-speed packet capture with up to 512 receive queues, DPDK support
▪ Extraction of features for encrypted traffic analysis
▪ Variety of packet classification engines with wire-speed performance:
▪ TCAM with up to 512 general rules, each defined with individual wildcard mask
▪ Longest Prefix Match in deep pipeline with capacity for up to 100k prefixes
▪ Exact Match hash table with support for up to a million unique keys
▪ DDR/QDR/HBM based connection tables with tens of millions flow records

Security devices

▪ Hardware filters and pattern matching to accelerate IDS/IPS systems
▪ Precise packet filtering and packet capture for lawful interception
▪ Anti DDoS with hardware IP or flow filtering controlled by software
Design services
The card is prepared for custom hardware acceleration in FPGA
We provide FPGA design based on high-speed 400 Gb IP cores for:
▪ packet headers parsing (Ethernet, ICMP, IPv4, IPv6, MPLS, etc.),
▪ packet filtering and classification,
▪ flow cache and connection tracking tables,
▪ fast pattern matching and
▪ many other IP cores for fast packet processing in deep pipelines.