View this newsletter in your browser
Newsletter
Dear Customer,
We are pleased to announce that our Zeus System-on-Module and its carrier board have already been sampled to key customers, and are currently working well.
In order to ease your development and reduce your time-to-market, we added additional accessories working along with the Zeus Zynq® UltraScale+™ MPSoC System-on-Module.
ADDITIONAL ACCESSORIES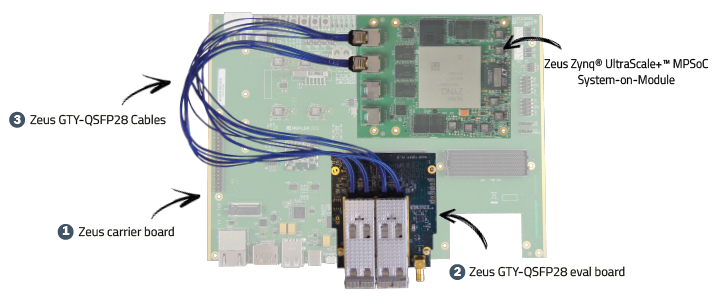 1) Zeus carrier board
The Zeus Zynq® UltraScale+™ MPSoC System-on-Module installed on the Zeus Carrier Board provides a complete evaluation platform for the SoM, supporting dual FMC+ connectors for analog RF daughter cards, ADC or DAC daughter cards, NVMe storage capability, and other interfaces to the MPSoC PS part.
2) Zeus GTY-QSFP28 evaluation board
The Zeus GTY-QSFP28 evaluation board is an FMC board connecting the 26 Gbit/s GTY to two QSFP-28 connectors. The board is fully compatible with the Zeus carrier board and is delivered with two Zeus GTY-QSFP28 cables.
3) Zeus GTY-QSFP28 Cable
The Zeus GTY-QSFP28 Cable is a 12 inch Samtec ARC6 custom cable that connects the Zeus GTY connectors to QSFP-28 connectors.
APPLICATIONS